Have you ever wished you could escape from reality? Well, now you can with virtual reality (VR) escape rooms! These innovative entertainment games allow you to experience exhilarating new worlds while working together with friends or family to solve puzzles and complete challenges.
So what are VR escape rooms? They are physical locations that have been outfitted with VR technology, allowing players to immerse themselves in realistic, computer-generated environments. In these virtual worlds, you can explore exotic locations, battle mythical creatures, or even solve crimes! And because each VR escape room is different, you can always come back for a new and unique experience.
So why not give one of these amazing experiences a try? You and your friends will have a blast working together to overcome the challenges and escape the room!
We've compiled a list of the top 10 virtual reality escape rooms in Northridge you should try!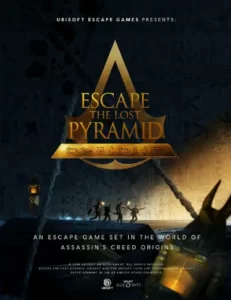 Escape The Lost Pyramid is an escape game in Virtual Reality, taking place in the world of Assassin's Creed Origins.
Welcome to the Animus. February 1928.
An expedition led by Sir Beldon Frye disappears somewhere in the Sinai Peninsula. A team of four and a dozen local porters were looking for the Lost Pyramid of Nebka… Or more precisely, "something" that should have been there. They were never seen again. Using the simulation reconstructed from their DNA memory, your team will put themselves in the shoes of the explorers. Find out what happened to the expedition. And more importantly, locate what they were looking for.
In the game, 2 or 4 players team up and have 60 minutes to find a way out of the pyramid of Nebka. Players will live a larger-than-life adventure. An adventure that would be far too dangerous or just impossible to live in real life.
Players: 1-4         
Difficulty: Easy           
Time: 40-60 mins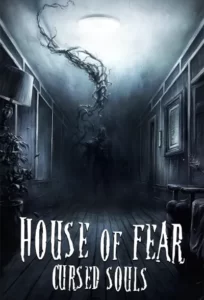 A house with a suffocating atmosphere… rapidly flickering lights and intimidating noises emanating from the walls, though no one is inside. Eerie whispers. Sudden angry shouts. Shadows moving in the darkness. A total darkness of the unknown. The deeper you dig into the story of The House, the more The House enters your soul. The dead need the living. They need you. A mysterious and brutal murder in a small town shocked the locals. Rumor has it that one night occultists killed the entire family and cursed their souls, imprisoning them forever in the walls. Can you solve this intricate mystery? Are you truly ready to explore every corner of this dark and gloomy place to free the poor unfortunate souls of the family? Think long and hard. Should you fail, The House will devour your soul forever.


Players: 1-4         
Difficulty: Normal           
Time: 40-60 mins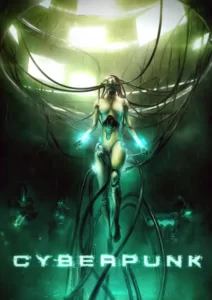 It's the beginning of the 22nd century. Society has collapsed amid rapid technological progress. People are modifying their own bodies extensively. Corporations war with one another over data, which has become the most valuable commodity on the market. Your group, made up of cyborgs equipped with special skills, has decided to steal some rare data from the archives of an influential corporation. Infiltrating the complex unnoticed, you must get to the archives and download the stack memory. But there won't be anything easy about that.
Players: 1-4
Difficulty: Normal
Time: 40-60 mins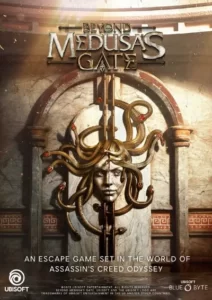 Beyond Medusa's Gate is set in the re-creation of Ancient Greece from Assassin's Creed® Odyssey.
Welcome to the Animus.
Two or four players team up and have 60 minutes to find a way out of a vast Aegean coastal cave where the legendary ship of the Argonauts is anchored. To successfully escape, players must use cooperative teamwork, problem-solving skills and precise timing to solve riddles and find their way out of this room-scale experience. Players start the adventure by choosing their avatar from among six diverse characters, and can customize them with Ancient Greek accessories.


Players: 1-4         
Difficulty: Normal           
Time: 40-60 mins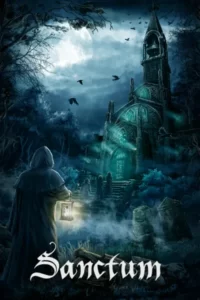 The world of H.P. Lovecraft is full of dark places and mystical creatures that you should stay away from. You received a letter from your close friend Anna, a detective conducting an investigation of mysterious disappearances in the nearby forests. Now you have no other choice but to do everything to save her. In the letter she asked for your help and then you never heard back from her again.. You are about to conduct your own investigation. It is time to visit an old abandoned monastery, where the cult of an ancient deity settled. You will have to risk not only your life but also your soul when you encounter the mysterious force that slumbers in the dungeon of the empty monastery. In order to find out what happened to your friend and get away from paranormal phenomena you will have to face horrifying secrets this dark sanctuary hides and solve ancient puzzles.
Players: 1-4         
Difficulty: Normal           
Time: 40-60 mins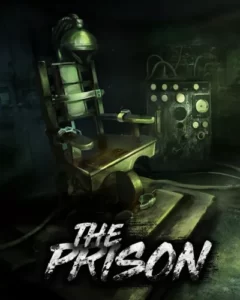 Your police force team has been cracking down on criminal gangs for years and taking no prisoners. The last major operation left several corrupt police heads rolling. Therefore, glory is just one step from oblivion. You've been framed and put in jail on trumped-up charges. Your friends still have their freedom though. The escape plan is all set, and now you'll need all the courage, all the cunning and all the luck you have to get to freedom and clear your name. And to carry on your fight for justice.
Players: 1-4
Difficulty: Normal
Time: 40-60 mins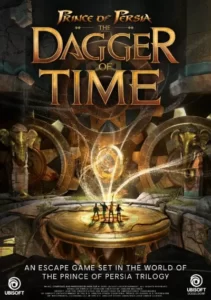 Prince of Persia: The Dagger Of Time is a Virtual Reality Escape Game set in the world of Prince of Persia which enables you to experience time control. You will be able to experience something impossible in real life: to slow, stop or even rewind time!
The Dagger of Time takes place in the setting of the Prince of Persia Trilogy (Sands of Time, Warrior Within, The Two Thrones). Players are summoned to the Fortress of Time by Kaileena to stop an evil Magi. Kaileena restores and gives the Dagger of Time to the players so they can reach the Hourglass Chamber and use it to stop the Magi.*
TDOT is an experience built around cooperation between players of all ages to achieve a shared goal. Collaboration is essential: you cannot succeed without your teammates. Being able to listen and communicate effectively is absolutely key to success.
In the game, two, three or four players team up to find a way out of a reimagined Fortress of Time. To succeed, they need to work together and solve puzzles. The puzzles will require players to interact with objects in their vicinity, climb, and use certain powers, such as the time control.
*You do not need to have played any of the previous Prince of Persia games in order to enjoy The Dagger Of Time.
Players: 1-4         
Difficulty: Normal           
Time: 40-60 mins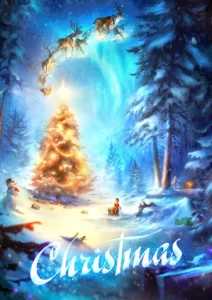 Christmas is under threat! Santa has got caught in a blizzard, he has lost all the presents and cannot find his way home. Only you can save Christmas. To help Santa find his house, you need to light the lights on the biggest Christmas tree in the forest. However, before you do that you'll have to get to where Santa lives in the North Pole and get everything back in order. Find out why the magic elves refuse to work and the presents are not getting to the children. Hurry up to revive the first Christmas tree along with Santa's best reindeer!
Players: 1-4
Difficulty: Easy
Time: 40-60 mins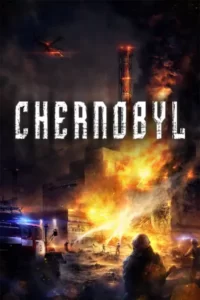 If only we could change the past, or witness the events that changed the world… Is it possible to change fate? Travel back in time to see if you can change the situation from which, it seemed – there was no way out. What happened on the night of the accident? What happened afterwards? Find answers to questions that have remained unanswered until now. The ghost town of Chernobyl can tell you its story… A story which cost lives. A disaster that still affects us today…
Players: 1-4         
Difficulty: Normal           
Time: 40-60 mins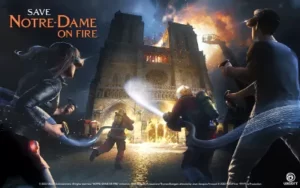 Experience the heroic rescue of the firefighters who saved Notre Dame de Paris.
Inspired by the movie and the rescue.
Save Notre Dame On Fire is a virtual reality escape game that recounts the historic rescue of Notre Dame de Paris during the fire that almost destroyed the cathedral on April 15, 2019. This escape game is based on the movie "Notre Dame On Fire" by Jean-Jacques Annaud and seeks to pay further tribute to the Paris fire brigade who helped make the game immersive and authentic. For 45 minutes, become a firefighter who saves the cathedral and its most precious treasure: the crown of thorns. Look for the sacred relic's safe, a well-kept secret; navigate the nave in flames after the spire collapses; then ascend the North tower overhanging Paris and relive the last chance mission in the belfry.
Players: 1-4         
Difficulty: Normal           
Time: 40-60 mins

A virtual reality escape room is a fun thing to do in Northridge with friends, family and colleagues.  It's a perfect idea for team building or a team outing. You'll be placed in a virtual reality world where you'll need to solve puzzles and find clues in order to escape. It's a great way to test your problem-solving skills and see how well you work as a team. Plus, it's a lot of fun! If you're looking for a fun activity, be sure to check Los Virtuality – Virtual Reality Gaming Center and find one of our Escape Rooms next to you.
You may also like the following article Top 10 Fun Things To Do in Northridge.