No two kids are alike, so why should their birthday celebrations be the same? If you're stuck in a rut of going to the same place for every birthday party, it might be time to switch things up. Northridge offers a lot of things to do for its neighborhood. Here are the top 10 best places for kids' birthday parties, based on activities, budget, and location. From indoor playgrounds to pottery, there's something on this list for every kid (and parent).
Los Virtuality – Virtual Reality Gaming Center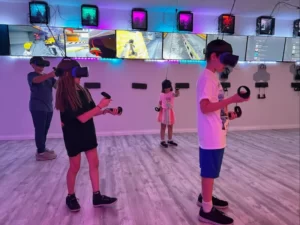 Virtual reality gaming is the most popular and fun activity for kids who love video games and it can be enjoyed in a group. It is interactive and engaging, making it a great party activity. Virtual reality gaming can help kids to develop social skills, teamwork and communication. It is also a great way to burn off energy and have a lot of fun! Virtual reality games at Los Virtuality are very kid-friendly. Many VR games can be played from the age of 6.
Los Virtuality is a brand new VR Arcade in Northridge just opened its doors in September 2022. It's a modern and spacious VR Arcade with 10 VR Gaming bays, 4 Racing simulators and more than 40 VR Games for any age including Laser Tag,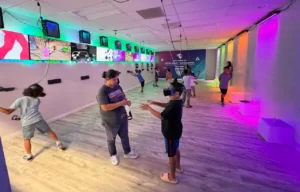 Sports Games, Dodge Ball, Escape Rooms, and much more. Most games could be played in multiplayer allowing kids to play as a team or compete against each other to gain the highest score!
Los Virtuality is one of the best places for kids' birthday parties in Northridge. We offer a few different party packages that are based on the duration. You can choose between 1,2 or 3-hour party packages depending on the size of your group, budget and timing. The most popular is 2 hours party package which is usually enough for each kid to play VR games and have some time for having food, drinks and of course a birthday cake!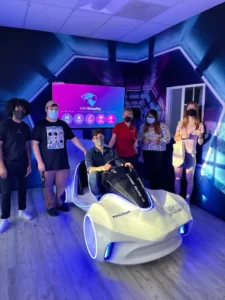 The birthday package includes:
Private arcade
Unlimited VR gaming
10 VR Stations
4 Racing Simulators (Could be added for an extra cost)
2 VR Gaming Experts to make your party smooth
A party room for celebration and for a buffet table. You can decorate it according to your party theme
BYOB – you can bring your own food and beverages and don't forget about a cake
Bring up to 40 people
And what's a birthday party without a gift? Make sure to ask about our special gift when you call to book your party!
Los Virtuality is a great choice if you're looking for the perfect place for an action-packed gaming birthday party!
Perfect for kids and teens ages 7 and older.
Call us to talk with an event planner to book your next kid's birthday party in Northridge.
Website: www.losvirtuality.com/locations/northridge/
Address: 19520 Nordhoff St, Unit 16, Northridge, CA 91324
Phone: (818)960-5591
---
Chuck E. Cheese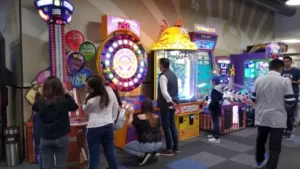 There's nothing like a birthday party at Chuck E. Cheese!
They've got all the arcade games, pizza and fun your kids could ever want. Plus, the birthday package includes everything you need to make your child's special day even more memorable. The price varies depending on how much game play you want for each child and how many extras you opt for.
Chuck E. Cheese is one of the best places for kids' birthday parties for ages 4 – 10 Years.
Website: locations.chuckecheese.com/us/ca/northridge/8425-reseda-blvd.
Address: 8425 Reseda Blvd. Northridge, CA 91324
Phone: (818)993-3446
---
My Gym – Kid's Gym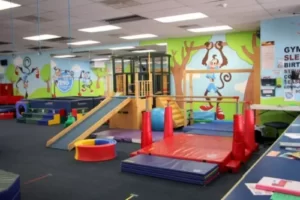 My Gym children's fitness center features a program and facility devised to help children three months to twelve years of age develop physically, cognitively and emotionally.
At My Gym, every kid's party is a perfectly planned celebration created especially for the birthday child with unique song and game requests made prior to the occasion. The talented party specialists will design an unforgettable birthday bash your whole family will treasure. And all our parties feature nonstop action-packed activities, games, puppets, songs, and more! My Gym parties are perfect for all ages up to 10 years old! The curriculum and equipment are designed for ages up to 10 years old. Any attendee over age 10 will assume and "grownup" role in the party and must remain off of the equipment for safety reasons.
Perfect for kids ages 1 – 12 Years.
Website: www.mygym.com/northridge/
Address: 9420 Reseda Blvd., Suite 12, Northridge, CA 91324
Phone: (818)998-7496
---
Sky Zone Trampoline Park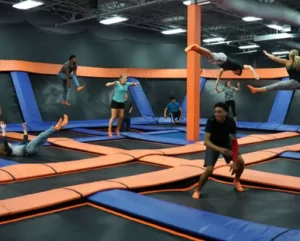 Sky Zone is an indoor trampoline park, where you will find all sorts of fun and games. You'll find different trampolines in different sections and they're pretty much wall to wall — and you'll even find some ON THE WALL.
Kids and adults love to jump, dodge balls, flip, sweat, and have a good time. These trampoline parks are huge, and all the kids will have plenty of room to run and play.
Perfect for kids ages 6 and older.­
Website: www.skyzone.com/vannuys
Address: 7741 Hayvenhurst Ave Van Nuys, CA 91406
Phone: (818)280-4970
---
Back Alley Bowling (Matador Bowl)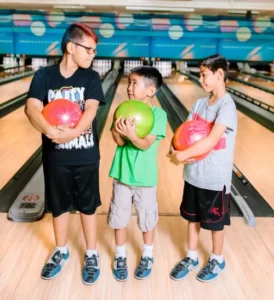 Kids of all ages, from young children to teenagers, will love having their birthday parties at the bowling alley. Bowling itself is an exciting activity that's fun for all skill levels. Whether you're a novice bowler or a total pro, bowling offers fun competition for kids, family and friends. Anyone, no matter their age, may enjoy the rush of knocking down the pins and scoring a strike, and you can even arrange bowling lanes for parents and kids so that all guests can take part in a fun challenge. Great food, drinks, and entertainment make events with Back Alley Bowling unforgettable.
Perfect for kids ages 6 and older.
Website: www.backalleybowling.com/parties_and_events/northridge
Address: 9118 Balboa Blvd Northridge, CA 91325
Phone: (818)892-8677
---
Pump It Up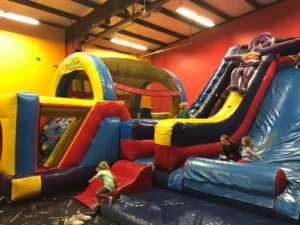 Pump It Up is an inflatable party place with arenas filled with huge bounce houses, slides, games and more. They offer private, hassle-free parties. They have locations all across the country and their staff is highly trained to help you make your child's birthday extra special. All you need to do is show up and they will take care of everything else.
Once someone is 34 inches tall and 2 years old, they can go on all the blow-up toys. Children under the age of 2 are welcome at Pump It Up, but they can't play on the inflatables.
Perfect for kids ages 2 – 10 Years.
Website: www.pumpitupparty.com/vannuys-ca/
Address: 6862 Hayvenhurst Ave Unit B, Van Nuys, CA 91406, United States
Phone: (818)994-1100
---
Kids Empire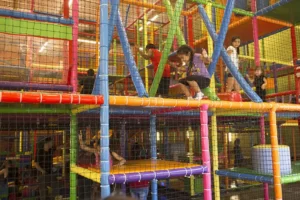 Located in Northridge, Kids Empire is a huge indoor playground featuring a multi-level play structure, a section just for babies, a disco room, and plenty of seating for parents. Families with siblings of different ages might consider this location because it can amuse both toddlers and tweens. Birthday parties at Kids Empire are a once-a-year opportunity to really celebrate your kids. They will handle all the details, from invitations to food and clean-up.
Perfect for children ages 4- 12 years.
Website: northridge.kidsempire.com
Address: 19500 Plummer St, Northridge, CA 91324, United States
Phone: (818)280-5240
---
Clay Play & Art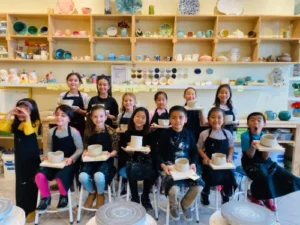 Clay Play & Arts is an intimate pottery studio that is designed to give everyone from beginners to experienced potters an engaging and welcoming studio experience. During a 2-hour time frame for your kid's party, they will teach you how to throw on the wheel (our introductory class). Pottery trains creativity, imagination and fine motor skills. Also, children will be able to keep the pottery they made as a keepsake.
Perfect for kids ages 7 and older.
­Website: www.clayplayarts.com
Address: 18510 Devonshire St, Northridge, CA 91324, United States
Phone: (818)477-2656
---
Tempest Freerunning Academy Valley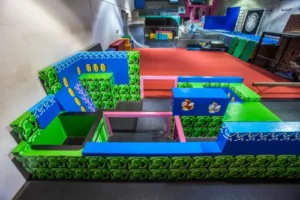 Tempest Freerunning Academy is California's first and only training facility solely dedicated to the growth and spread of freerunning and parkour.
Parkour is the act of moving from point A to point B using whatever is in your path to move more efficiently. And it comes along with acrobatic or ninja movements as a way to express themselves. Most of this movement includes flips, fancy rolls, and all kinds of amazing tricks that kids can learn in parkour classes. Children benefit from classes by learning about their bodies, spatial thinking, power and strength, flexibility, and the joy of moving freely.
Perfect for kids ages 5 and older.
Website: www.tempestacademy.com
Address: 19821 Nordhoff Pl #115, Chatsworth, CA 91311, United States
Phone: (818)717-0525
---
We Rock the Spectrum – Kids Gym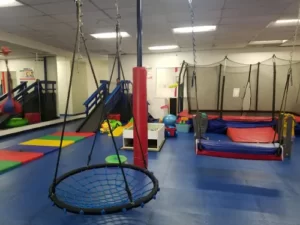 We Rock the Spectrum is a sensory gym for all kids. It's a great place to bring kids for play, exercise, arts and crafts and just good old fashion fun! They are feature a Zipline, Monkey Bars, Swing Area, Springfree Trampoline, Arts and Crafts, Dress up/Role Play, Their Rock shop featuring Melissa and Doug toys, costumes and more! There are plenty of options for all ages.
We Rock the Spectrum is another one of the best places for kids' birthday parties in Northridge for ages 1 – 10 years!.
Website: www.werockthespectrumnorthridge.com
Address: 19520 Nordhoff St, Northridge, CA 91324, United States
Phone: (818)341-3818
---
Conclusion
We hope you enjoyed our list of the 10 best places for kids birthday party in Northridge. We know that planning a birthday party can be tough, but we think that these places will help make it a little bit easier. And, most importantly, your kids are sure to have a blast! So what are you waiting for? Start planning your kid's next birthday party today!