Are you looking for a way to keep your kids entertained in Los Angeles while still letting them get some physical activity? Look no further than the top-rated Laser Tag centers in the city!
Playing laser tag helps kids with their coordination and agility, as well as develops their problem–solving skills and strategic thinking. It also encourages socializing with other kids and adults and increases team–building and collaboration. In addition, this game encourages imagination as children and adults create their own storylines and scenarios. Finally, playing laser shooter helps to teach children to value planning and being accountable for their actions. Laser tag is a great way to stimulate physical, cognitive, and social development and have fun with your kids at the same time!
Whether your kids are looking to take part in a classic game of laser tag or something a bit more high-tech, the centers in this list are sure to provide hours of fun. From multi–level arenas to cutting-edge VR gaming, these centers will provide your family with an experience to remember. In the golden city of Los Angeles, there are plenty of great locations where you and your kids can have a great time. Here are the top 10 laser tag centers in Los Angeles.
1. Los Virtuality – Virtual Reality Gaming Center | VR Arcade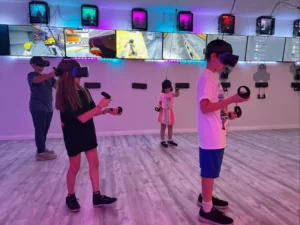 Los Virtuality is a cutting-edge virtual reality gaming center that offers an immersive laser tag experience that will make you feel like you're in a real-life video game. With state-of-the-art VR equipment, Los Virtuality is perfect for groups of all sizes.
Laser Tag in virtual reality is a totally new way to experience this classic game. Picture yourself and your friends in a futuristic world, competing against one another with virtual guns and blasts of lasers, all while navigating obstacles, dodging walls, and using special powers.
You'll have to use all of your agility and strategy to win the game and come out on top! Laser Tag in virtual reality is the perfect way to add a thrilling twist to the classic game without having to actually leave your own home.
Celebrating a child's birthday party with VR is an incredibly popular and unique way to have fun! Playing VR laser tag enables youth to explore new worlds and engage in exhilarating and competitive gameplay in a safe and engaging environment.
With immersive graphics, realistic sound effects, and motion tracking sensors, the virtual reality laser tag experience unfolds in a stimulating, fun-filled way. Playing laser tag in VR provides an endless array of interactive features and creative customization options. It's the perfect choice for any celebratory birthday party.
Los Virtuality is extremely popular for kids birthday parties and offers a few birthday packages.
Los Virtuality has two convenient locations around Los Angeles:
Website: https://www.losvirtuality.com
---
2.

Laser Storm

Laser Storm is a state–of–the–art center that celebrates the classic fun of laser tag. Laser Storm features two levels of play, each with a full arsenal of laser tag gear and props, providing visitors with an unforgettable experience. Laser Storm also offers a snack bar, arcade games, and party packages, making it easy to host a memorable event or birthday party.
---
3.

Lost Worlds

Lost Worlds is another great laser tag center in LA. Lost Worlds, with three locations in Burbank, Pasadena, and San Gabriel, offers a unique, sci–fi inspired experience. Here you can play a wide range of games in the Lost Worlds world, and use their specialty props, such as game–changing teleporting devices and force fields. Lost Worlds also has a snack bar, arcade games, and party packages for your next gathering.
---
4.

Laser Land

Laser Land is another one of Los Angeles' premier laser tag experiences. Laser Land offers a military–themed laser shooter, with realistic battlefield–style equipment and challenges. Laser Land also has a snack bar and arcade, plus party packages and special events.
---
5.

Ultrazone

The last and most exciting laser tag center in Los Angeles is Ultrazone. Ultrazone offers some of the most advanced laser tag gear and games available, allowing you to create a totally customized experience. You can even choose your own music and special effects, making your gaming unique and memorable. Ultrazone also offers a snack bar, and birthday parties.
---
In conclusion, the top laser tag centers in Los Angeles provide a great opportunity for parents to bring their children for a fun adventure. With advanced technology offerings, reasonable pricing, and a variety of structured and unstructured activities, these gaming locations offer something for everyone.
Birthday parties at laser tag centers in Los Angeles are a great way to celebrate your child's big day! Laser tag is an exciting, fun activity for kids of all ages, that's sure to get your little ones excited. Kids will spend hours running around blasting each other with laser beams and having a blast. 
Parents can rest assured that their children will be having fun and building important skills while playing the game. This allows parents the peace of mind that their kids are in a healthy and safe environment. With all that considered, these gaming centers in Los Angeles are sure to make lasting memories for both parents and children alike!