If you're looking for a fun-filled weekend or even just a few hours to kill, Northridge has plenty to offer! Northridge, California, is a vibrant and lively suburban area in the San Fernando Valley that offers plenty of fun activities for local families. From outdoor recreation and lively entertainment spots to educational activities, there's something for everyone to enjoy. Whether you're looking to explore the city with your little ones or are in the mood for a fun–filled day out with the whole family, here are a few of the best things to do in Northridge. We have compiled the top 10 things to do in Northridge.
Los Virtuality – Virtual Reality Gaming Center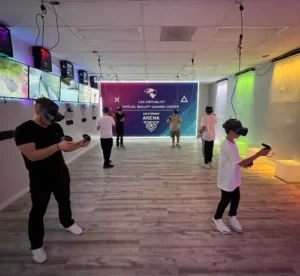 Los Virtuality is one of the fun things to do in Northridge.
Welcome to your family's new favorite destination – an incredible virtual reality gaming center! Get ready to explore all the fun adventures it has to offer. 
Come with friends or family to battle it out in a frantic round of VR laser tag. You'll be ducking and dodging around the virtual room as you try to outsmart your opponents and come out on top.
Feeling adventurous? Test your skills in one of our immersive escape rooms. Whether it's searching for clues, solving puzzles, or making it out alive . . . the success of the mission is in your hands!
Want to show off your driving skills? Put the pedal to the metal in our selection of racing simulators.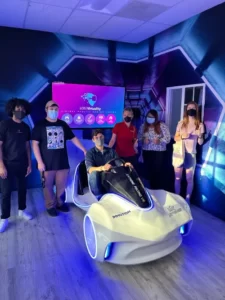 Soar down the speedway and race for first place!
The fun doesn't stop there. Our VR center is the best place to have birthday parties for kids and special events. We have everything from kid-friendly VR games to multiplayer zombie shooters. Whether it's a birthday or a corporate event, you'll be sure to have an unforgettable experience.
So come on down and bring your family and friends to our virtual reality gaming center. We guarantee a good time!
Phone: (818)960-5591
Address: 19520 Nordhoff St, Unit 16, Northridge, CA 91324
Website: www.losvirtuality.com/locations/northridge/

---
Northridge Cinemark
Northridge Cinemark is the perfect place to have fun and relax! Kick back in the plush seating with a cold drink and make your way through the wide selection of movie titles. From the latest releases to old favorites, you can find something to fill your cravings. With an impressive sound system and high-quality projection, you're guaranteed to have a fantastic time at Northridge Cinemark. You can even take a break from the movies and check out the snack bar for a delicious treat. And to top it all off, you can sink into dreamland with the Cinemark DreamLounger chairs! Nothing compares to the luxury and comfort of these state-of-the-art recliners. So the next time your movie cravings strike, come to Northridge Cinemark. There's something here for everyone!
Website: www.cinemark.com/theatres/ca-salinas/century-14-northridge-mall
---
Lake Balboa Park
Ahoy thar sailors! Lace up your boots and ready your compasses for we are about to embark on an adventure to Lake Balboa Park in Northridge, California! Here you can find yourself engaged in a plethora of activities that will keep your hands busy, your feet moving, and your heart ticking!
Start off by navigating your way around the lake by kayak or paddle boat or go on a charming footpath around its perimeter. Then you can make a splash in the swimming pool or practice your tennis swings on the courts. Play a round of golf on the mini golf course or let your pup make some new friends on the dog run. Plus, the kids can have their own fun on the jungle gym, slides and swings!
At Lake Balboa Park there is a surprise around every corner – giant chess and checkers pieces, a bright and lively skate plaza, and even a nature center complete with plenty of fauna and flora regarding classes! There are also plenty of lush green lawns, peaceful lawns, and playgrounds to retreat too.
If you get a bit peckish, fire up the grill at one of the barbecues, or enjoy your lunch at a picnic table while being gently serenaded by the birds!
And should you find yourself needing some inner peace and spiritual sustenance, why not try a mindful moment atop the meditation benches, the perfect spot for some 'you' time!
Take in the fresh air and enjoy the wonders of nature at Lake Balboa Park. Happy explorations!
Website: www.laparks.org/aquatic/balboa
---
Northridge Fashion Center
This mall offers a variety of fun activities that are sure to put a smile on your face.
For starters, if you love shopping, you're in luck! With more than 120 stores, you can find something for everyone. Whether you're looking for the latest fashion trends, home decor items, or electronics, there's something at the Northridge Fashion Center for you. Plus, you can find stellar deals by visiting their website, making it easy to get the best prices on whatever you're looking for.
Are you a fan of live entertainment? Then you must check out the Regal Cinemas theater for all the newest movies. With plush seating and superior sound, you won't want to miss out on what's hitting the silver screen.
To make your day even more special, you can join in on one of the many events and activities hosted at the Northridge Fashion Center. From carnivals and concerts to holiday celebration, there's always something to get you in the spirit.
So, if you're looking for a great way to enjoy your day, don't miss out on the Northridge Fashion Center in Northridge, California. With great shopping, movie times, and events, you're guaranteed to find something fun to do – no matter who you are!
Website: www.northridgefashioncenter.com
---
Boulderdash San Fernando Valley
Oh Yeah! It's time for some exciting family fun down in the San Fernando Valley.
If you're looking for a fun and challenging way to spend your day, look no further than Boulderdash San Fernando Valley! Take on the challenge of scaling our towering walls – the perfect way to overcome a fear of heights and have fun at the same time! Conquer the high–speed obstacle course that is sure to test your skills while being an absolute blast. Or put your feet up and relax in our vibrant and inviting lounge area.
No matter what your experience level is, we've got a variety of routes that will take you to new heights.
Whether you want to challenge yourself or just want to enjoy a leisurely climb, our knowledgeable staff is always here to help you out.
Come experience the adventure of Boulderdash San Fernando Valley and make some awesome memories with the people you love.
Website: www.boulderdashclimbing.com/sfv/
---
O'Melveny Park
O'Melveny Park is one of the most popular parks in Northridge. Home to over 200 acres of nature and recreation, O'Melveny has something for everyone to explore and enjoy. From the lush green lawns, shaded picnic areas, and scenic walking paths, to the golf course and tennis courts – the outdoor activities here are endless.
Kids can frolic in the giant playground and explore the wetlands, while older visitors can bask in the bird and butterfly population. With plenty of trails and open spaces, you can take a self–guided walk and enjoy the stunning views, or venture out on a bike – the possibilities are endless!
Whether you're looking for a peaceful stroll or a full–on adventure, you'll find it all at O'Melveny Park! Oh, and don't forget to take some stunning pictures along the way – you won't want to forget this amazing spot!
Website: www.laparks.org/park/omelveny
---
Sky Zone Trampoline Park
Are you ready to jump and bounce at Sky Zone in Northridge, California? Sky Zone is the happiest place on earth welcoming everyone to have a healthy and energizing time of fun. This trampoline park has 12,000 square feet of bouncing and jumping space alongside a variety of activities that are sure to make your experience one of a kind.
With dodgeball courts, basketball lanes, swap platforms and more, the possibilities are endless! Open jump gives you access to the entire court while foam zone is sure to have you (safely!) soaring through the air.
Whether you're a beginner or an advanced jumper, there's something here for everyone! So grab your friends and family and get to jumping at Sky Zone Northridge!
Website: www.skyzone.com/vannuys
---
The Regency Theaters in Northridge
Ahoy, movie lovers! If you're looking for the best cinema experience in Northridge, look no further than Regency Theatres Granada Hills! This historical theatre has been around for many years, offering superior picture and sound quality, state–of–the–art auditoriums, and reclining luxury seating. With RealD 3D capabilities and Dolby Atmos sound technology, you can be sure to enjoy a film like never before. What's more, you can find snack bars and concession stands throughout the theatre to indulge in popcorn, candy, ice cream, and more. When you're done, grab a photo or souvenir at the gift shop!
Whatever your movie preference, Regency Theatres Granada Hills has the perfect movie–going experience for everyone. This gem of the neighborhood is sure to make your next trip to the movies one to remember! They also offer a discount for students with a valid ID.
Website: regencymovies.com
---
Northridge Park Aquatic Center
Are you looking to make a splash in the sunshine state of California?
The Northridge Park Aquatic Center in Northridge is the place to dive right in! With two large pool areas, a lazy river and plenty of slides, there's guaranteed to be something to make a big splash.
Get your hands on a tube and chill in the leisure river, or screw up your courage and whiz down one of the super slides. Once you're done with the waterslides, you can make a splash in the Olympic–sized pool, which will make you feel like a true aquatic champion.
Don't forget to grab a snack from the concession stands and sit back and relax in one of the lounge chairs to catch some rays. With plenty of areas to splash and an abundance of sunshine, Northridge Park Aquatic Center is definitely one of California's premier pool destinations!
Admission is just $5 for adults and $3 for children ages 3-17. Season passes are also available for purchase.
Website: www.laparks.org/aquatic/summer/northridge-pool
---
Iceland Ice Skating Center
If you're looking for the 'coolest' place to have some winter–time fun, then look no further than the Iceland Ice Skating Center in Van Nuys, California!
Whether you're an experienced skater or just learning how to skate, Iceland Ice Skating Center offers a wide variety of services to ensure everyone gets a great experience. With a large ice rink surrounded by party rooms, arcade games, and a laser tag arena, you'll be guaranteed hours of fun!
Get yourself a pair of skates and hit the ice at a leisurely pace – or if you're feeling daring – why not try some advanced tricks and jumps?
Plus, with special deals throughout the year, Iceland is the perfect place to take the family for some quality winter–time refreshments! So lace up those skates – time to go gliding across the ice at the Iceland Ice Skating Center!
Website: valleyskating.com/
---
Conclusion
There are plenty of fun things to do in Northridge, no matter what your interests are. We hope our list has given you some ideas of where to start exploring this great neighborhood. If you have any other suggestions, be sure to let us know in the comments below!
You may also like the following article 10 Best VR Escape Rooms in Northridge.