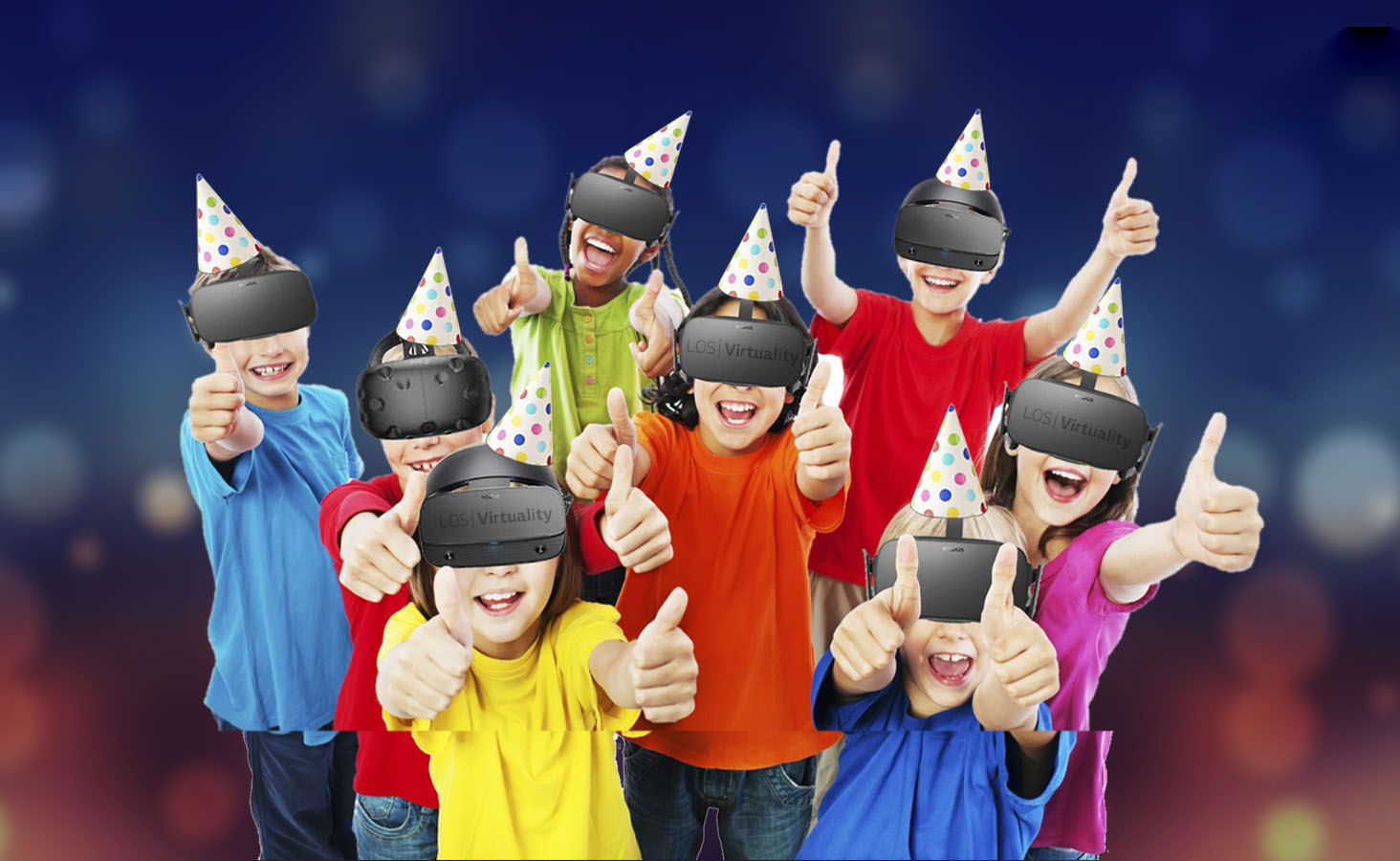 For every birthday, you always want to come up with something unique. But finding something special can always be a challenge, especially when you don't want to spend a lot of money on birthday party activities. It doesn't have to be expensive to have a fun time. The idea of celebrating the birthday party for your children makes you wonder how to get started.. Choosing the right venue is the first step to making your children's party a successful and memorable one. Los Virtuality – Virtual Reality Gaming Center has 10 VR gaming stations that allow 10 kids to play at the time. If you have a large party with more than 10 children, it's not a problem, the kids love watching the games on the large screens while they're waiting for their turns. The friendly staff will manage all the guests to make sure everyone has enough time to enjoy VR games. Los Virtuality has a lot of VR games and experience and it's appropriate for kids starting at 7th years old. It's a BYOB (bring your own beverages) party, parents are welcome to bring food and drinks or hire a catering company. Let us know if you need to download any new virtual reality game or experience for your birthday celebration. We have many modern VR headsets, so we can accommodate large groups at a Los Virtuality virtual reality birthday party. We also offer the best VR experiences for kids to play together as team members or compite against each other. Regardless of the age of the guests, planning a birthday party is difficult. A fun, unique, safe, and manageable party for you as a parent can be challenging to put together. As a child, it can be difficult for you and your friends to find an activity that everyone can enjoy. At Losvirtuality we accept last minute VR birthday party! Our unique VR experiences will make your guests remember your event for years. You can choose different durations for your party with a minimum time of 1 hour. The best option for the group of 20 people is a 2-hour package. If your group is more than 20 people, we recommend to chose the 3-hour package. Also, you can rent our gaming center for the whole day. As soon as you wear the VR headset, you can start playing immediately. Other participants will see the player's vision projected on a screen. Let's start with the best kid's birthday party ideas.
VR Kids Birthday Party in Los Angeles
VR birthday parties
are a popular choice because of the many games and activities that can be used for children's parties and the fun that can be added to a traditional birthday celebration. It'll be a hit with kids and their parents alike! It's only a problem if your kids ask you to buy them a virtual reality headset after they've tried it out once. If you or your child want to purchase a VR headset, please let us make recommendations based on your budget, desired capacity, desired resolution, and other factors. For a modern, state-of-the-art activity for your kid's birthday party, our virtual reality birthday party in Los Angeles is the best option!
Choose an ideal theme for a special birthday party.
If your party's theme calls for a unique VR experience, we can easily accommodate it. Popular kid's birthday party themes like Fortnite, Star Wars, Zombies, and Under the Sea can now be improved with virtual reality. Virtual reality will add a whole new level of immersion to the game.
Birthday Parties especially for Kids are a great option.
There are many options for kids' birthday parties equally entertaining for 07-year-olds and 40-year-olds. Although virtual reality is one of these. As a Local Based Virtual Reality arcade company, we strive to provide our customers with a wide variety of experiences. We've got some fantastic interactive visuals for those who aren't gamers. You can, for example, walk an 80-story plank while your friends watch. You will then be taken to a sunken ship, where you will have the opportunity to swim with a blue whale. A virtual reality animated short film or an Mt. Everest Expedition can round out your experience with virtual reality. Our most satisfied customers have come from parents who have been searching the internet for kids' birthday party ideas.
Newcomers to VR Are Always Welcome.
For gamers and non-gamers alike, virtual reality birthday parties are a great option. Many people of all ages are interested in playing today's popular video games, but learning how to use the systems' complicated controllers can be challenging. Non-gamers who pick up a PS4 controller for the first time may face a steep learning curve. There are only five buttons on the HTC Vive or Oculus Rift S hand-tracked controllers for most games. Therefore, even non-gamers can jump right into a VR game and have a blast.
Customized Content
Virtual reality birthday parties can be tailored to your kid's preferences and the interests of your guests. All first-person shooting games? We all know it. Is there anything that you'd like to avoid? It's not a problem at all. We're sensitive to your tastes, so you'll only see games and experiences that you'll enjoy. If you tell us a bit of yourself and your guests, we'll make a custom list of suggestions.
Mobile VR rental
Do you want to turn your house or any party venue into the gaming zone? Los Virtuality is happy to help you with our
Virtual Reality rental
service. No Need to do more work. Allow us to bring all of the latest and greatest virtual reality equipment to your home or event venue on the day of your party. Our team will take care of everything, including setting up and facilitating play throughout the entire event. Unlike other forms of party entertainment, you will not be required to lift a finger during this event. We take the responsibility of providing excellent virtual reality experiences to guests of all ages very seriously. Creating a safe environment and ensuring that everyone who wishes to participate can do so is a top priority. We know that you may have some queries about what to expect at your birthday party, and we are always happy to talk things through with you further.
Contact us or go ahead and book your upcoming party.
What type of virtual birthday party is best for kids?
It is likely that an excellent virtual birthday party for kids will have a strong central theme and will include some pre-planned activity that everyone can participate in at the same time, such as gaming or crafting.